You guys, I am a sucker for curry, so it should come as no surprise that
this recipe
for curried lentil soup was made two weeks in a row in my house. It was the perfect blend of spicy and creamy! We added way more kale than the recipe calls for (at least double) since it can handle it, and it sincerely warmed my heart. If you are into the idea, give it a try. Super easy and flavorful! You won't regret it :)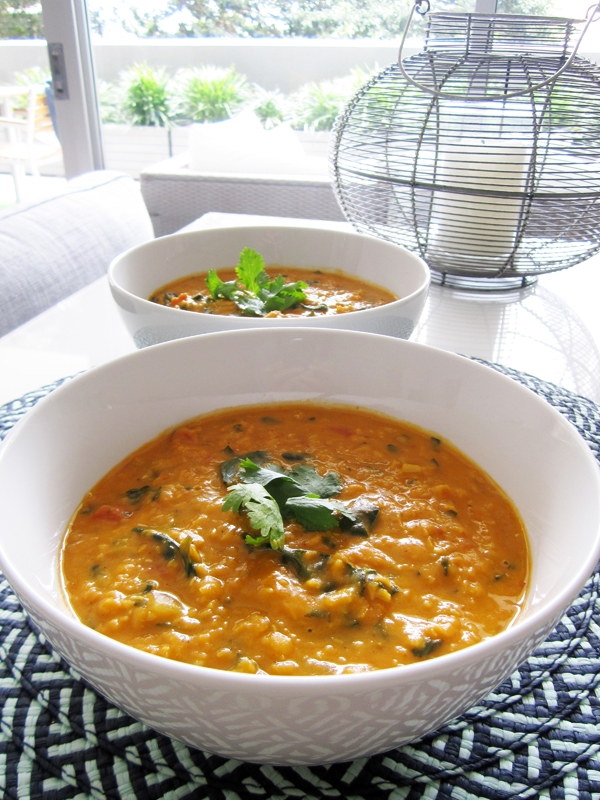 Ingredients
1 tbsp coconut oil (or olive oil)
1 large onion, chopped
2 cloves garlic, minced
1 tbsp fresh ginger, minced
2 tbsp tomato paste (or ketchup)
2 tbsp curry powder
½ tsp hot red pepper flakes
4 cups vegetable broth
1 400ml can coconut milk
1 400g can diced tomatoes
1.5 cups dry red lentils
2-3 handfuls of chopped kale or spinach
salt and pepper, to taste
Garnish: chopped cilantro (fresh coriander) and/or vegan sour cream
Directions
In a stockpot, heat the coconut oil over medium heat and stir-fry the onion, garlic and ginger until the onion is translucent, a couple minutes.
Add the tomato paste (or ketchup), curry powder, and red pepper flakes and cook for another minute.
Add the vegetable broth, coconut milk, diced tomatoes and lentils.
Cover and bring to a boil, then simmer on low heat for 20-30 minutes, until the lentils are very tender.
Season with salt and pepper.
Before serving, stir in the kale/spinach and garnish with cilantro and/or vegan sour cream.
Image and recipe from https://vegangela.com/
Have a lovely weekend friends!