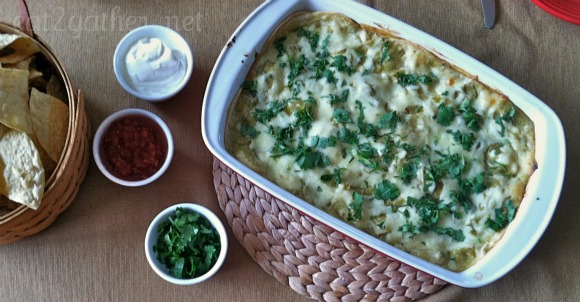 I stole this picture from this blog because the few I took were not cute :)
1 cup Sour Cream (8 ounces)
1 large can Green Enchilada Sauce (28 ounces, Las Palmas is the best)
2 8 Ounce cans Green Chilies, diced
3 cups cooked Chicken, shredded (a roasting chicken from grocery store works great)
2-3 cups shredded Monterey Jack Cheese
chopped Cilantro, for garnish
Preheat oven to 350 degrees.
Mix green sauce, canned chilies, and sour cream together in a bowl. Set aside.
Simmer chicken broth in a skillet. Have shredded chicken, cheese ready. Make yourself a little assembly line.
Assembly: Spread 1 ladle full of sauce mixture in bottom of a 9×13 baking dish. Dip tortillas in broth and layer over sauce. Next a layer of chicken, then cheese, sauce, repeat…tortillas, chicken, cheese, sauce. Last layer is tortillas, sauce and cheese.
Bake at 350 degrees for 30-35 minutes or until warmed through.
This recipe is super simple, but really delivers a great home cooked meal feeling that leaves you with a little warm and fuzzy :) I blogged about the book Bread and Wine awhile back, and this is one of the many recipes from that book I have made since posting that blog.
It's cozy and raining here today and I am looking forward to yummy food and Hot Chocolate with Baileys tonight before bed. With only two weeks until Christmas my heart will be happy no matter what, this season is my favorite and I look forward to all the goodness it holds all year long.
Eat well this weekend friends :)