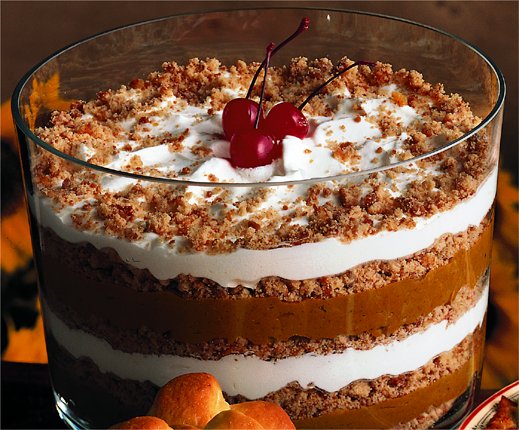 Ingredients
2-3 cups of leftover spice cake, muffins, or gingerbread (I used spice cake)
1 16 ounce can pumpkin puree
1 teaspoon ground cinnamon
1/4 teaspoon ground nutmeg
1/4 teaspoon ground ginger
1/4 teaspoon ground allspice
4 (3.4 ounce) packages instant butterscotch pudding mix
Directions
1) Set aside 1/4 cup of cake crumbs for top. Divide remaining crumbs into four portions; sprinkle one portion into the bottom of a trifle bowl or 3-qt. serving bowl.
2) In a large mixing bowl, combine pumpkin, spices, milk and pudding mixes; mix until smooth. Spoon half into the serving bowl.
3) Sprinkle with a second portion of crumbs.
4) Whip cream until stiff; spoon half into bowl.
5) Sprinkle with a third portion of crumbs. Top with the remaining pumpkin mixture, then last portion of crumbs and remaining whipped cream.
6) Sprinkle the reserved crumbs on top, around the edge of the bowl. Place cherries in the center if desired.
7) Cover and chill at least 2 hours before serving.
Comments
I did not follow this recipe exactly.
Also, I did not make fresh whipped cream; I bought cool whip, and guess what, it was still delicious!
I didn't have Allspice or nutmeg and I didn't measure my spices.
Despite all that, everyone who had this told me they loved it. So if you like a little extra cinnamon, feel free to go for it! I'd also recommend a little pumpkin pie spice!
Also, if you attempt this, know that the pumpkin and butterscotch pudding is delicious, but really thick, so a good quality spatula would be best for spreading :)
For your reference, this recipe came from Here.