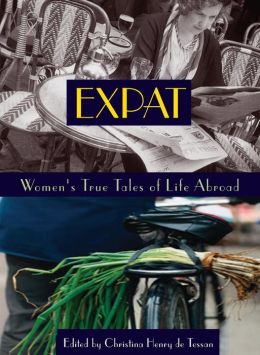 Bill and I have a problem. We have officially run out of bookshelf space. We have small stacks of books piling up around our home and I have decided, as a result of this recent dilemma, as I finish a book, I will send it someone who would enjoy reading it, to make room in my house for more books in the future and to send someone a little joy at the same time.
SO, if after reading my short review (and potentially doing a little research of your own) you are interested in having any book you see on here in your collection, just leave me a comment and I will arrange to have it sent to you so you can sit in a comfortable chair with a cup of tea and be transported elsewhere, even for just a few minutes a day. Reading is wonderful, and hoarding books, especially ones I have finished, seems like a crime. I want to share the wealth!
The being said, I'd love to tell you about this lovely read. It is a collection of short stories of women who lived over seas and excerpts of their lives and travels. Some discouraging, some encouraging and all very realistic. It really hits the nail on the head when it comes to language barriers, cultural differences and celebrating small victories. I think often times the idea of living abroad is really romanticized, and I thought this book would glorify the expatriat experience, but it actually was very raw and made it clear that the lifestyle is not for everyone and takes a lot of perseverance.
This book kind of surprised me. Maybe I need to stop having pre-conceived notions and just a take a book for what I is as I experience it, but this book was better than expected to me. I haven't read a collection of short stories in awhile, and it was a nice change of pace to read one story at a time or a few back to back as I pleased. It was a nice change of pace, although it got me craving a good long book… grass is always greener right?
I definitely recommnd this book, but not if you want a lot of character development, but that is the choice you make with short stories. I loved it though, and it really covered the entire globe with each woman being located in really unique places, it hit on politics and religion, and so much more. Definitely worth you time!