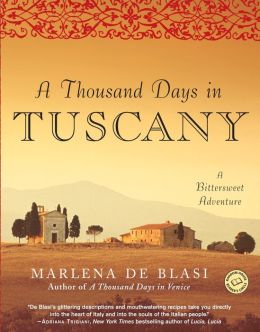 This book is an Italy loving foodie's dream. I definitely could not get enough of it. It was like going on vacation whenever I picked it up, because I dream of being the woman who wrote this when I "grow up" :) She writes with such poise and confidence and makes her meals sound like the most incredible experiences I can even imagine.
The recipes are so sumptuous, and every dish described can almost be tasted from the amount of detail. Oh my gosh, I just wanted to jump in the pages and be sitting at the table with them! I can picture myself with a glass of deep red wine soaking it all in sitting in a rustic, yet comfortable wooden chair around a table filled with laughter, candles and conversation.
I have been daydreaming about a trip my family and I are planning to Paris, Germany and Tuscany in the fall of 2015. While that is only 2 years away, it feels like an eternity. I cannot wait to be there, living in the setting of this book. I miss living in Italy everyday and often times wonder if anywhere else in the world fits me as well as a small Italian town. The beauty in simple moments is overwhelming. The colors and smells and textures and flavors of Italy are overwhelmingly glorious to my palette, and I realize as I write this that a piece of my heart never left.
This book just hugs you. It really transported me back to Italy where life is a little bit slower paced and time stands still a little more. People take their time and sit and talk and a meal takes hours upon hours and they just sit and enjoy each other. I feel like this is something American culture lacks, the ability to just sit and enjoy a good meal and wine at a dinner table for a long time. We are always in a hurry to get somewhere or watch something or on our phones distracted. This book is such a refreshing reminder that there are places that exist in the world today that linger over meals and just enjoy food and wine and company. That is how I want my home and life to be known.
Who wants to help me accomplish this? ;)